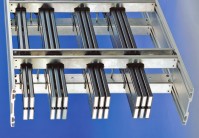 TRANSLITE MF BUSDUCT
Simplicity is the most important for joint work of Bus Duct. One- bolt join system of Translite MF Bus Duct secures good result and is completely fool-proof.
Belleville washer disperses the pressure on the overlapping conductors, absorbs thermal expansion and contraction and ensures long term reliability of joint.
High-tention bolts with heat proof insulation are previously assembled at joint portion. So, it's uneccesary to remove the bolts when jointing, except 600 A size.
The fitting stoppers are provided at the duct joiner of bolt end to regulate the conductor lapping.
Captive hardware stops turning of joint bolt, so there is no need to catch the bolt head by normal wrench.
Cross Section      
Vertical Cross     
lug In Feeder      
Flanged End        
Horizontal Elbow   
Vertical Elbow     
Branch Devices     
End Closer         
Reducer            
Vertical Tee       
Horizontal Offset  
Vertical Offset    
Combination Elbow   
Feeder             
Cable Entry Box    
Vertical Hanger    
NAXSO POWER BUSDUCT